WHO?
I am known as Anna M.C., but you can call me Galadriel, Queen of the Elves, Lady of the Golden Wood. All shall love me, and despair!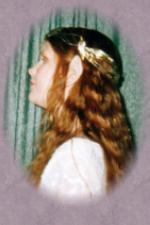 If that's too much to ask, a token show of vague affection and mild depression will do nicely.
WHAT?
This is my version of Galadriel's Fellowship Greeting Dress/Mirror Dress, inspired by Peter Jackson's adaptation of Tolkien's Fellowship of the Ring. It's really a fusion of both scenes, since the former scene included a gauzy cape, while the latter scene lacked both crown and cape. Just think of this as my deeply personal, daringly avant-garde interpretation of Ngila Dickson's vision, in which the simultaneous lack of a cloak and presence of a crown act as a symbolic statement -- a spiritual affirmation, if you will -- of the "uncloaking" of Galadriel's queenly power within my own soul!
Or, you could just think of it as me running out of time to make the cape, and bluffing shamelessly.
WHEN?
Halloween 2002, the Third Age, round about Second Breakfast.
WHERE?
The original Galadriel dwelt in the magical and perilous realm of Lothlórien, knowing all that had once been, and much of what would be, while bestowing great gifts upon those who sought her aid. My Galadriel dwelt in the magical and perilous realm of the public library, answering reference questions and pushing copies of The Lord of the Rings on unsuspecting patrons.
Hey, I settle for what I can get.
HOW?
The dress began its life as a baggy size 16 closeout wedding gown purchased on e-Bay, consisting of ivory chiffon over a polyester undergown and a thin inner lining. I would've liked to sew something from scratch, but I've never learned how to use a pattern, and this seemed just a tad too ambitious for a first attempt.
As you can see, it took buckets of blood, sweat, tears, and any other body fluid you'd care to name to transform my purchase from a pseudo-medieval wedding gown into a pseudo-Galadriel gown. The entire process took approximately four months of evenings and weekends to complete. By the end, I had gained enormous empathy for Sauron, as I knew what it meant to degenerate into one enormous, sleepless, bloodshot eye.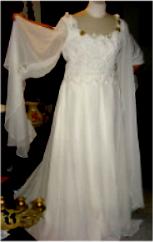 SKIRT
I seam-ripped out the split skirt overlay panels and then re-stitched the main chiffon skirt by hand to avoid snagging. Since this was one of the first things I did to the dress, I was still in enough of an anal-retentive mode to make sure I passed the needle through the tiny holes left in the fabric by the original seam. At the time, this seemed logical. In retrospect, this was quite impressively insane.
In the interest of not destroying the dress right off the bat, I had the acres of skirt professionally hemmed to floor length in front, and the three-foot train reduced to a significantly smaller sweep train.
SLEEVES

Although I'd hoped to be able to alter the existing sleeves, a few unfortunate cuts left them looking like a tribute to Galadriel's "Terrible as the Dawn" shredder sleeves. I ended up having to seam-rip them out and sew bell sleeves from some serendipitously matching Wal-Mart ivory chiffon. I cut them so as to make the natural selvage serve as a smooth cuff edge, and avoid the heaviness of a hem.
BODICE

Judging by the e-Bay pictures, I'd originally thought the lace was just a loose overlay. I soon discovered it was sewn down every quarter inch on the bodice. Four days later, after painstakingly seam-ripping the lace and silk flowers, it was obvious that the heavy lace tatting had been sewn directly onto the polyester undergown for stability; there was no chiffon from the waist up. If left as is, it would result in a distinctly pathetic, "Budget Galadriel" look.
I took advantage of the situation to rip out the side seams and take in the bodice several inches, reducing the dress from a size 16 to a well-fitting 8/10. Afterwards, I essentially improvised a chiffon bodice overlay. I hand-sewed one square block of chiffon to the front waistline and two to the back waistline on either side of the zipper, pinned and trimmed them to fit the curves of the bodice, and then hand-hemmed and hand-sewed them together. The less-than-stunning hem around the neckline is sneakily disguised by ivory satin bias tape plundered off an old negligee, plus a line of Hancock Fabrics' pearl trim. I was extremely pleased with how it turned out, all things considered.
EMBROIDERY

I would've loved to hand-embroider hundreds of exquisite ivory ferns upon the gown in true Galadriel fashion; of course, I would also love to be a billionaire. Both propositions seemed equally unlikely to happen by October 31st of 2002, or even 2006, for that matter. As a pragmatic alternative, I purchased several yards of shiny satin-finish, leaf-patterned lace from a wholesale fabric remnant shop. With the assistance of my long-suffering family, I cut out about half a zillion leaves, which were then attached to the chiffon with Fabri-Tac glue. I employed a scatter pattern in which the leaves were set closer together on the upper sleeves, bodice, and upper skirt, and further apart on the voluminous lower sleeves and skirt. This allowed me to glue a more manageable quantity of leaves on the gown without making the whole thing look anemic.
BEADING

It just wouldn't be Galadriel if it didn't sparkle like the lobby at a Liberace convention. Gluing big globs of glitter on the gown could look cheap and grungy, while sequins would evoke Liberace far more than Lothlórien. The only answer was hand-sewn beads -- 4 silver rocailles and 2 silver "2-cut" beads (like miniature bugle beads) per leaf. The rocailles had a more consistent, subtle glimmer, while the flashier 2-cut beads reflected bright sparks of light as I moved. Unfortunately, the end result sparkled a lot more in person than in pictures.
BELT

I sewed the belt from tan, "Willow" patterned ribbon from Michaels, embellished with a repeating motif of 10 silver rocailles and two pearl teardrops, and edged with the same pearl trim as the dress neckline. Interesting trivia: I hand-sewed all the belt beading on the airplane and late at night during my trip to Las Vegas to visit my sister-in-law. While the rest of the world gambled, I grumbled at rocailles.
CROWN

The crown consists of silver and gold 16-gauge wire, hot glue, and silvery-gold plastic holly leaves bought for $0.25 per branch at last year's Craft-Mart Christmas clearance sale. Snipping the pointy bits off the edges of the holly made them resemble regular leaves. I followed the design of the movie crown as closely as the available pictures and my skill would allow, even doing my best to reproduce a large segment of the intricate design in back. Everyone at work knew when I'd worked on the crown, since I'd come in with big ol' wire gouges on my hands, arms, and, on one particularly klutzy occasion, my nose and cheek.
BROOCH

I couldn't find a mother-of-pearl button without holes in it, or a piece of round mother-of-pearl jewelry that didn't cost a fortune. I finally ended up taking a large button, filling up the holes with hot glue, gluing a pin on the back, and painting several thick layers of mother-of-pearl paint on top. The silver branches were derived from cut-up hoop earrings hot-glued to the button, while the silver leaves were snipped from dangle earrings and hot-glued to the branches. This project has the distinction of inflicting more creative hot-glue burns on me than any other; I dripped hot glue onto my thumb, reflexively placed my thumb in my mouth to cool it, and wound up with blistered lips and tongue.
If there's a consolation prize for Most Self-Inflicted Injuries Acquired During Costume Production, I'm a shoe-in.
RING

I did give the ol' college try at making my own ring out of silver filigrees, wire, and a rhinestone. I ended up destroying my computer printer, thanks to an embarrassing and Rube Goldberg-ian accident involving silver filigrees, a hot glue gun, and gravity. I finally gave in and bought an officially licensed reproduction ring from Applause. Ironically, the ring appeared so briefly in the film that most of my acquaintances wouldn't have known the difference if I'd just called my diamond engagement ring "Nenya."
COSMETICS

My elf ears were the old reliable Woochie brand, of Vulcan fame, applied with a particularly viscous (and vicious) brand of spirit gum, then coated and blended with foundation makeup.
Unfortunately, I was not willing to dye my long red hair blond for the sake of the perfect Galadriel image, and cheap wigs just look goofy. However, since Tolkien's famous book did include a line from Gimli saying that her hair "surpasses the gold of the earth," not that "her hair is blond," I decided to go for a very literal interpretation: I liberally coated my hair with streaks of gold glitter gel. You can barely see it in the pictures, but in person, people had to wear industrial sunglasses to look directly at my head. I achieved the crimping effect by having my hair tightly braided in four braids the night before and soaking it down in the shower. By Halloween morning, it had dried into a cascade of rippling waves (and by the following morning, it had fused into a snarl of glitter-encrusted, spirit-gummed knots. So kids, don't try this at home).
Since I couldn't afford to have a sophisticated lighting crew follow me around to cast an ethereal and luminous elf-glow (heck, I couldn't even bribe a co-worker to shine a flashlight on me), I applied a very sparing amount of silver glitter gel to my eyelids, upper cheekbones, chest, and hands. Since I'm cadaverously pale enough for a passable Galadriel complexion without any special makeup, I just used my usual foundation, combined with soft brown eyeshadow, a tiny amount of rose-toned blush, and a tiny amount of rose-toned lipstick.
Overall, the spirit gum was the most annoying aspect of the makeup. The Doom of Men may be mortality, but chronic ear-dandruff is the Affliction of the Elves.
PURSE

Galadriel had hordes of elf-minions to carry her things; for practical reasons, I needed a purse. I found a $4.00 bargain at a local St. Vincent de Paul thrift shop, a clutch purse encrusted with a leaf-pattern of silver rocailles. Removing the tarnished clutch frame, I sewed the top into a drawstring bag with a silver cord.
SHOES
For health code reasons, I couldn't go barefoot. I considered getting see-through plastic sandals, but couldn't find a satisfactory pair. I finally purchased some silver elastic sandals with a very elvish woven pattern to them. Unfortunately, these sliced through the flesh of my feet like piano wire through cheese. I have no pictures of them, since I took great pleasure in vengefully hacking them to bits and chucking them in the garbage the minute I returned home.
WHY?
Isn't it obvious? I'm a barking mad masochist with a glitter fetish.
Seriously, I've always loved elaborate Halloween costumes; I loved Peter Jackson's film; I loved the idea of being a character who would promote a renowned work of literature; I loved the idea of swanning about the library where I work, wrapped in a glimmering mist of chiffon and murmuring cryptic elf aphorisms like "Even the smallest book can change the course of the future." I could greet visitors to the reference desk by asking them, "How may we aid your quest?" When a patron asked me how to find a book, I could allow an enigmatic smile to play about my lips while replying, "Even the wisest cannot tell, for the shelves contain many things." Then, if the item they wanted was checked out, I could assume a pale and stricken pose while breathing "It has fallen into shadow!" And then I'd get smacked senseless. And probably richly deserve it.
Moreover, I lost 60 pounds (and kept it off!) this year. Reason enough to splurge on a really killer costume, I'd say.
Besides, pointy ears rule.
RESULTS:

The only really bad moment came when the elevator burned out, and I had to traipse up and down stairs in my slicing sandals with my arms overflowing with a huge chiffon sweep train (I'm betting Bag End there were at least 12 outtakes of Cate Blanchett falling a** over teakettle down that Lothlórien staircase). Every mother in the library wanted a picture of her child with me in front of our Lord of the Rings poster display; it must've started to look like a "Madonna Galadriel and Child" portrait session. This costume also helped my department win prizes for "Best Group -- Lord of the Rings" at the City's employee Halloween costume contest; our group consisted of three Generic Hobbits, three Generic Elves, one Generic Human Warrior from Gondor, one Generic Wizard, and one Gandalf the Fuchsia-Rather-than-Grey (don't ask). I plan to use the movie ticket I was awarded to see -- what else? -- The Two Towers.
My Galadriel gown has now been packed away in plastic, awaiting its recycling next Halloween for The Return of Galadriel -- unless, after I see Eowyn in The Two Towers, the desire to swan about with a sword becomes too overwhelming . . . .
And for the record, bits of spirit gum are still flaking out of my ears.
Please e-mail any questions or comments to annamc@ix.netcom.com
Return to Homepage.